Why one brother is more successful? the Ambani borthers as an example
👉Time for a case study of Reliance. 🔸RIL of Mukesh Ambani vs 🔸R-Adag of Anil Ambani A thread📜: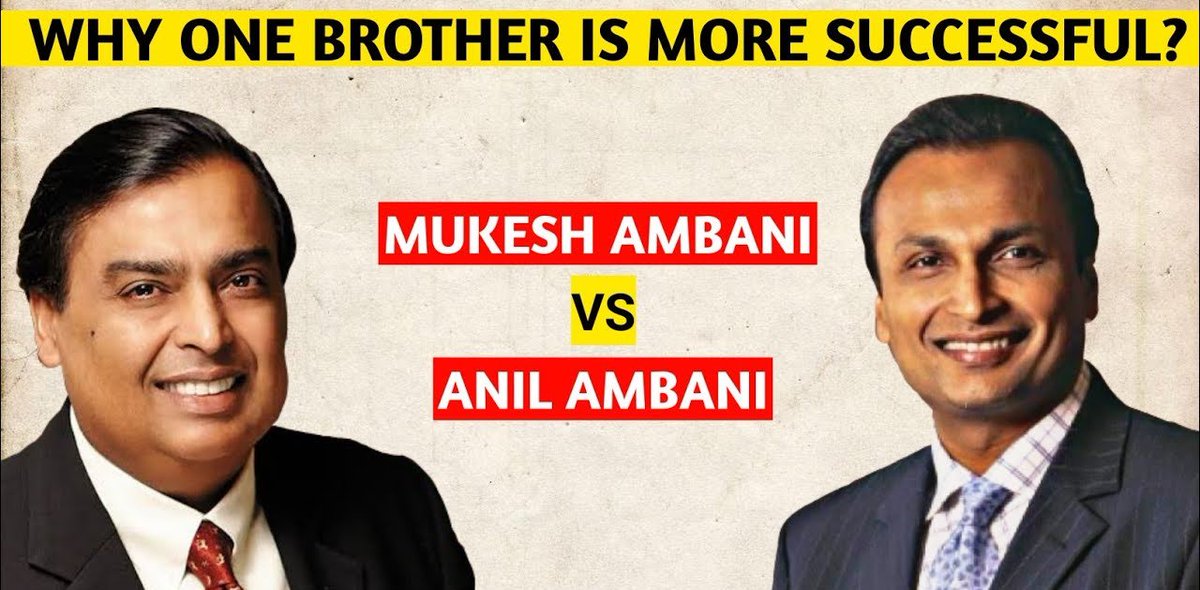 When Dhirubhai Ambani, died in 2002, The ₹28,000 crore business empire he built over 25 years—a darling of the stock market since the IPO was now into the hands of his two sons.Two had shared responsibilities The senior Ambani was the chairman and junior Anil its managing director. But things didn't work out well together. So they decided to split.As per the public agreement — 2005, the old-age energy & petrochemicals business under Reliance Industries would go to Mukesh. Several new-age fledgling — telecom, infra, financial services, power & fuel trading businesses, most of which Mukesh had nurtured, would go to Anil.It almost seemed like a win-loose. Anil just got well functioning new-age businesses. They also signed a no-compete agreement. Mukesh would not enter the telecom business, while Anil would stay out of energy and petrochemicals.👉Anil Ambani: Stylish, contacts with Bollywood stars, media-savvy, addressed lot of press conferences. He would fly in his helicopter from his South Mumbai house to the Dhirubhai Ambani Knowledge City in Navi Mumbai a few kilometres away twice a week.Bought multiplex chain Adlabs in 2005, became the largest Indian multiplex owner in 2008. Secured 3 of the major ultra mega power projects auctioned by the govt—2008-09 While his subsidiary Reliance Infrastructure was bidding for projects in railways, power and roads.Despite having multiple businesses, and focusing on them, he went on to invest in new businesses for diworsification. The riskiest investments he made was in power and infrastructure. High capital intensive businesses which needed debt for funding.Moreover, he entered into a long legal battle over the price of gas from Mukesh's oil fields. Outcome of this legal battle? The court ruled that the two brothers gave the government control over setting the gas prices. Lose-lose.When the non-compete clause ended in 2010 Mukesh wasted no time entering telecom. Laid foundations for the biggest disruption ever in the telecom space. With a long-term view of 4G & fibre, Jio's entry in 2016 shocked everyone, including their competitors—RCom, Airtel & VodafoneDue to tough business environment, Anil had no option but to start selling assets. "We have decided we will not proceed in this sector. Many other companies have taken a similar call. This is very much the writing on the wall," — Anil, RCom letter to shareholders, 2018.Real trouble started from 2014, when the group companies began to feel the burden of debt. They kept on selling assets & sometimes entire business. In 2018, Reliance Infrastructure, sold their prestigious projects including the airport express metro corridor to Adani.The value of his WHOLE group companies changed from the peak of ₹1,65,917 crore in 2008 to JUST 1% of that value at ₹1,687 crore in 2019. Finally when Anil was in trouble and needed money for bail, his own brother came for help.My takeaways: 🔸More money does not attract wisdom. 🔸One lifetime is enough to make it or break it. 🔸Debt is dangerous. If you're smart, you'll realize you don't need it. If you're dumb, it speeds up the process of bankruptcy. 🔸Learn from other's mistake, it's much cheaper.